As summer approaches, a lot of women are checking out several silver flat sandals to match with their summer dresses, shorts and tank top ensembles, and mini-skirts. Indeed these sandals are a must-have as they are very useful and attractive. Thus, you have to look for lightweight ones that are very stylish and comfortable. Surely you will make the most of these sandals because the color and design can easily be paired with various outfits.
Here are some of the silver flat sandals that you may want to consider buying for this summer 2012:
1. BCBGeneration Women's Allandra Sandal – $78
 If you are looking for all-day comfort combined with great style, then this is pair of sandals for you. The strappy gladiator design is classic and simple, yet very fashionable. There is also an accented vamp that adds luster and glamor to the entire look. The ankle strap will also keep it in place and allow you to move freely and easily without having to worry about the sandals getting thrown off your feet all of a sudden and putting you in that embarrassing spotlight.
2. Lovely People Women's Roux Flat Sandal – $52.81
 For those who are on the lookout for silver flat sandals that seem to project utmost sophistication in a unique way, then you should seriously consider this pair. The upper part has a braided design that gives off that nautical feel and makes the entire appearance perfect for a stroll on the beach, a lounge by the pool, or a sailing date on a boat. There is also a comfortable leather back strap that ensures a nice fit. The slight heel is another added feature that boosts up the feminine look of this pair of sandals.
3. Lumiani Tessa – $69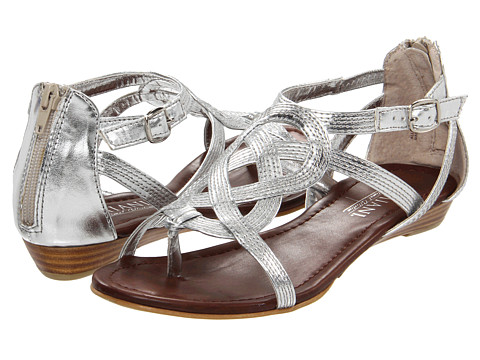 Is your fashion style a combination of classic and contemporary? Then these silver flat sandals are ideal for you. The swirly straps, along with the back-zip closure, make for a chic and modern appearance that gives off a casual but posh impression. The lightly padded footbed will surely keep your feet comfortable even if you plan to walk all day. Indeed this is another nice option for you to take into account.
4. Vince Camuto Mollan – $69
Shining, shimmering, and splendid – these are the perfect words to describe this pair of sandals. The thong-style design along with the fantastic studs and adjustable buckle closure is truly stylish and functional too. What's more, you can benefit significantly from the padded footbed. These sandals are absolutely stunning and will make your feet look lovelier even if you are always on the go.
5. DV by Dolce Vita Women's Adyn Thong Sandal – $79
Here's another stunning pair of sandals that you will surely love. It is made of dark leather with a chic and modern design that is ideal for young females and the young at heart, especially if you love to stay stylish and active during the summer. Indeed you can never go wrong with the glamor, durability, and comfort of Dolce Vita.
With all these choices you have for the silver flat sandals that you want to show off this summer, you should certainly choose based on your own taste and personality. Which one do you think brings out the best in you? Which one will help generate that look you have been picturing in your mind? Then perhaps that pair of sandals is the perfect one for you.